CBD For Dogs Hips
Dogs love to run, jump and play. That's what makes a diagnosis of hip dysplasia so distressing. With modern advancements in surgical, medicinal, and holistic treatments, hip dysplasia in dogs does not have to be a life-altering condition. In fact, the natural anti-inflammatory and pain-reducing properties of CBD combined with healthy lifestyle choices can help many dogs live normal, happy lives.
What Is Hip Dysplasia?
The word dysplasia comes from the Greek words for "bad" and "formation." Hip Dysplasia loosely translates as "bad hip formation," which is a simple, but accurate description.
The hip is a ball-and-socket joint with the head of the femur serving as the "ball," and a groove on the pelvis known as the acetabulum serving as the "socket." When the femoral head does not fit snugly into the acetabulum, the joint partially dislocates, causing painful wear and tear.
The bones grind together, the cartilage becomes worn, and over time the muscles experience undue strain. In severe cases, hip dysplasia can cause lameness, arthritis, and decreased mobility, making it almost impossible for dogs to do the things they love. Some dogs even lose full function of the joint.
Pain Management For Dogs With Hip Dysplasia
Despite your best efforts to control the painful symptoms of hip dysplasia with positive lifestyle choices, you may find that your dog needs additional help to maintain his quality of life. Luckily, there are several choices when it comes to pain management.
Non-Steroidal Anti-Inflammatory Drugs (NSAIDs)
While this class of pharmaceuticals is excellent for reducing painful inflammation in the hip joints, NSAIDs should be used with caution. They carry the potential for a host of unpleasant side effects including vomiting, loss of appetite, depression, and diarrhea.
For some dogs, the downsides of NSAIDs are even more severe. Stomach ulcers, liver failure, kidney failure, and even death can occur in certain cases.
Joint Supplements
Natural supplements such as glucosamine and chondroitin can have positive results for dogs with hip dysplasia. They help promote healthy cartilage and manage arthritis.
Alternative Therapies
Many dogs find relief from their pain with alternative treatments such as acupuncture, laser therapy, and stem cell treatments. Ask your veterinarian if alternative therapies are right for your pup, or consider making an appointment with a holistic vet.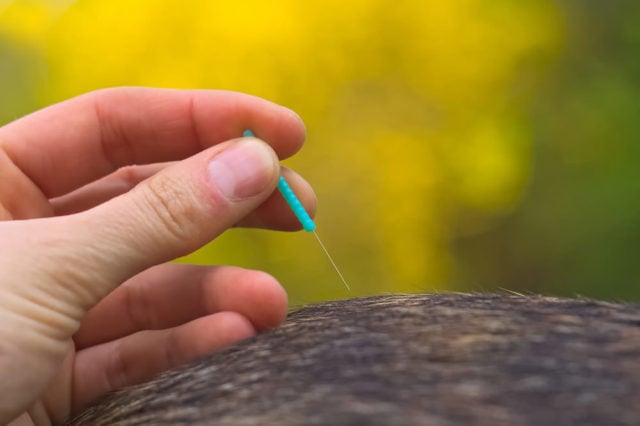 CBD Oil
Until recently, CBD oil fell into the "alternative" category. However, veterinarians and pet owners are now discovering the many benefits of this hemp-based treatment.
How Can CBD For Dogs Hips Help?
CBD works by interacting with your dog's endocannabinoid system which is made up of specialized receptors throughout the nervous system and body. It helps address imbalances throughout the immune system and organs to prevent and alleviate chronic pain, inflammation, anxiety, altered sleep patterns, digestive problems, and more.
CBD oil's success in treating dogs with hip dysplasia is two-fold.
1. CBD Is A Natural Anti-Inflammatory
Since hip dysplasia is an inflammatory condition, many vets prescribe NSAIDs to their patients. However, there is a safer, more natural alternative. CBD is a powerful, natural anti-inflammatory without the harmful side effects that come with pharmaceutical drugs.
In fact, many users are hailing CBD oil as the most powerful anti-inflammatory found in nature.
2. CBD Helps Manage Pain
CBD interacts with receptors in the brain to influence the way your dog processes pain signals. Studies regarding CBD and chronic pain have proven so effective, some researchers consider it a whole new class of pain reliever.
Further Resources:
Top Quality CBD for Pets available in varying strengths for pets of all sizes
Top Quality CBD Products You Can Trust – Proudly Made In The USA
Find your space of zen with this Top Quality CBD Calm Mood Bundle
Top Quality CBD Creams for Pain Relief – Proudly Made In The USA
Top Quality Sleep collection of premium CBD oils, edibles, and creams to help you slow down, relax, and snooze away
For More CBD News & Tips:
Benefits of CBD Oil – 12 Amazing Health Benefits of CBD Oil!
What Does CBD Do To You? IMPORTANT To Know!
THC vs CBD: What's The Difference?
Is CBD Legal? Hemp-derived CBD products (with less than 0.3 percent THC) are legal on the federal level but are still illegal under some state laws. Marijuana-derived CBD products are illegal on the federal level but are legal under some state laws. Check your state's laws and those of anywhere you travel. Keep in mind that nonprescription CBD products are not FDA-approved, and may be inaccurately labeled.
The information contained on this website is presented for the purpose of educating people about cannabis. Nothing contained on this website should be construed nor is intended to be used for medical diagnosis or treatment. It should not be used in place of the advice of your physician or other qualified health care provider.
This site is reader-supported – if you make any purchase or subscription via some of the links which are affiliate links, we may be compensated with commissions, at no extra cost to you. Thank you.